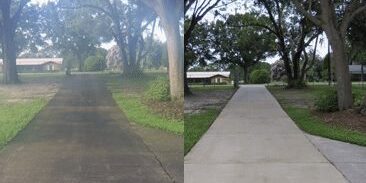 Pressure Washing
San Antonio homeowners knows a little bit about how dust, dirt, mildew and pollen can accumulate quickly, left uncleaned these elements can build up over time, after awhile it can make your entire property look dull and dingy. What's the answer? Power washing. (If it's outside and dirty we'll clean it!) It's one of the most cost effective–and least expensive–ways to give your property a facelift. When it comes to power washing, San Antonio residents trust the experienced professionals at Emerald Yards to get the job done right. We charge as little as $0.15 cents per square foot. So you'll know up front what it'll cost to complete the areas you want clean. 
We also use a mildewcide to remove or prevent mildew before it continues to grow,  Mildew can grow on any organic matter, including wood, exterior walls, drive & walkways, decks anywhere where sitting water is a problem, or where there is to much humidity and uncleaned areas, mildew is caused by humidity and moisture. During the damp winter months, when the heating goes full blast and the windows stay shut, mildew can flourish inside your home – and, as the weather warms up, humidity can help the process along. Molds are always present in the air, those that cause mildew need moisture and certain temperatures to grow. They commonly develop in humid summer weather, especially in closed houses. These molds can grow on anything from which they get enough food source with the right elements. As the molds grow, they can cause considerable damage. 
Prolonged exposure to mold and mildew can have serious consequences for your health and well-being. Touching or inhaling mold and mildew can cause a wide range of health problems in both allergic and non-allergic people -- regardless if the spores are dead or alive. 
Mildew can be found on many different surfaces. It is a thin, black, or sometimes white, growth produced by mold. Though molds are always present in the air, those that cause mildew need moisture and certain temperatures to grow.  
Green or black algae, mold and mildew, lichen, and moss can all grow on your outdoor surfaces. Damp, uncleaned, humid and heated areas are perfect elements for growths such as green algae, mold and mildew which can cause concrete walkways, driveways, patios, even wood decks to become extremely slippery, creating a fall risk for you and your family. 
At Emerald Yards, we are on a mission to combat green algae, mold and mildew that can cause concrete sidewalks, driveways, patios and wood decks to be unsafe for family members, we don't just stop there! We'll also pressure wash and treat your whole house and exterior property. We treat your family like we treat ours. Please contact us for a no obligation FREE estimate to clean the outside of your property today!